Stay Warm, All Day, Every Day:

The Rory, is where fashion meets function

Incredibly Soft: You will not find a softer merino wool top

Stay Insulated:

The incredible thing about merino, is you'll stay insulated without overheating in all your cold weather activities

Repels Odor: No more stink
Wicks Moisture: Our performance wear wicks moisture away from the skin keeping you dry, warm, and feeling your best
Flat Lock Seams: Designed for comfort to prevent chafing

Options Fully Loaded:

1/4 Zip, wear how you like it, discreet thumbholes that are as functional as they are stylish, and a small side pocket for essentials

Machine Wash & Dry: Wash on cold, dry on low heat or hang to dry - turn inside out
Garment Weight: Size Medium 10.4 ounces

Designed in Upstate New York - Australian Sourced Merino Wool - Made In China
FEARLESS BY WOOLX - DARE MOTHER NATURE TO STAND IN YOUR WAY
What if we told you the most stylish and flattering ¼ zip you'll ever wear is also one of the best performing pieces of outdoor gear you'll ever own? Don't just take our word for it, take the Woolx Rory ¼ zip out for a spin yourself. Our premium midweight merino wool shirt is combined with ultra-soft microfleece and 4-way stretch jersey to create the ultimate performance ¼ zip. You'll stay perfectly insulated without overheating during all your cold-weather adventures.
No detail was overlooked in the design of this backcountry beauty. The 4-way stretch side panels, extended thumbhole cuffs, hidden side pocket and 1/4 zip combine to cover all your bases during any outdoor activity. And the sporty articulated seams, luxurious merino wool and snow white fleece make this top as fashionable as it is functional.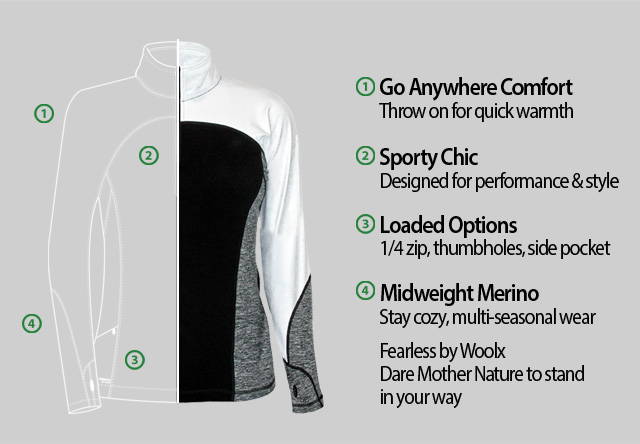 Softest Merino Wool You Will Ever Wear...Guaranteed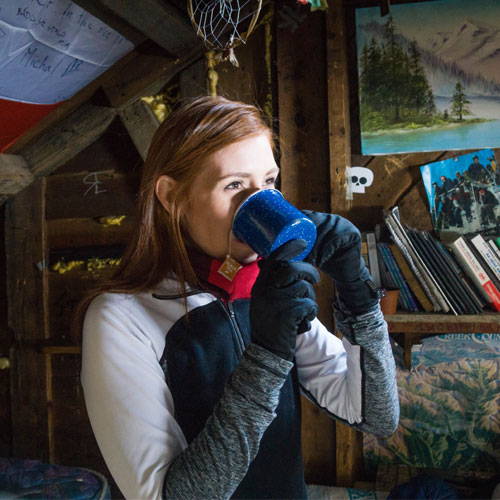 Fabric Information

MIDWEIGHT 230g/m²
Body: 100% Australian Merino Wool - 17.5 Microns
Sleeves & Sides: Spandex - Fleece

Creating the ultimate in stylish performance wear
Fabric Information

MIDWEIGHT 230g/m²
Body: 100% Australian Merino Wool - 17.5 Microns
Sleeves & Sides: Spandex - Fleece

Creating the ultimate in stylish performance wear

Fit

REGULAR FIT
Not too tight...not too loose
Size
XS :0-2
S : 4-6
M : 8-10
L : 12-14
XL : 16
2XL: 18
Bust
XS :32-33
S : 34-35
M : 36-37
L : 38-40
XL : 41-44
2XL: 45-47
Arm Length
XS: 30
S : 30.5
M :31
L : 31.5
XL: 32
2XL: 32.5
Waist
XS : 25-26
S : 27-28
M : 29-30
L: 31-33
XL : 34-36
2XL: 38-40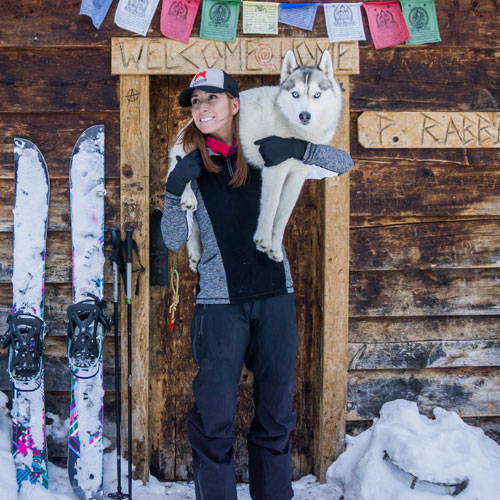 Size
XS :0-2
S : 4-6
M : 8-10
L : 12-14
XL : 16
2XL: 18
Waist
XS : 25-26
S : 27-28
M : 29-30
L: 31-33
XL : 34-36
2XL: 38-40
Bust
XS :32-33
S : 34-35
M : 36-37
L : 38-40
XL : 41-44
2XL: 45-47
Hip
XS: 34.5-35.5
S : 36.5-37.5
M :38.5-39.5
L : 40.5-42.5
XL: 43.5-45.5
2XL: 47.5-49.5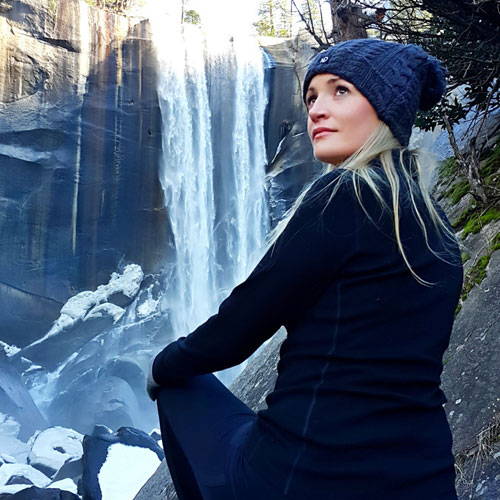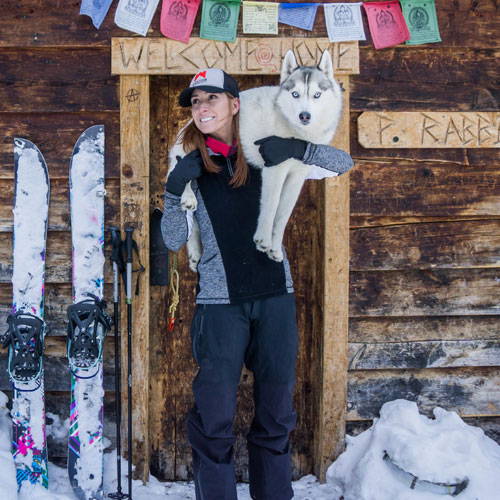 Size
XS :0-2
S : 4-6
M : 8-10
L : 12-14
XL : 16
2XL: 18
Waist
XS : 25-26
S : 27-28
M : 29-30
L: 31-33
XL : 34-36
2XL: 38-40
Bust
XS :32-33
S : 34-35
M : 36-37
L : 38-40
XL : 41-44
2XL: 45-47
Hip
XS: 34.5-35.5
S : 36.5-37.5
M :38.5-39.5
L : 40.5-42.5
XL: 43.5-45.5
2XL: 47.5-49.5
EASY CARE
Machine Wash Cold - Tumble Dry Low
No Shrinkage Ever
It's That Simple
Related Items
Ask a Question
Women's Rory Quarter Zip Sweater - Clearance Colors