24/7 Wear:  

So comfortable, you'll forget they are on

Anti Microbial & No Odor: Our merino wool boxers can we worn for days without washing, no odor guaranteed

Breathable:  

You won't believe your new favorite boxers are made of high performance merino wool

Lightweight:  

Feels like a second skin

Quick Drying:  

Ditch those cotton boxers, merino wool dries 30% faster

Super Soft:

This is not your Grandpa's wool, our wool boxers are as soft as cashmere

Sleek Athletic Design: 4" Inseam, tagless, & plenty of room for the "boys"

No roll waistband:

For all day comfort

No Pill - No Itch Guarantee: If for ANY reason you are not satisfied with any Woolx product, contact us for a free exchange or refund, that easy, no questions asked.

Garment Weight:

Size large - 3.2oz.

Designed in Upstate New York - Australian Sourced Merino Wool - Made In China
Our merino wool boxer briefs are like no other. Once you wear these merino wool boxers you're sure to be hooked. We guarantee it.
The best performance gear is designed to help an athlete achieve their ultimate goal, whether it be to run faster, climb higher, or hike farther. During those long hours training for an ultramarathon, or on week six of your Appalachian Trail hike, you need to be so comfortable you don't even know you're wearing underwear while at the same time getting the support, temperature regulation and moisture control you need.
But what if you're not a high-performance athlete? Is there any reason you wouldn't want high-performance gear for your everyday activities and everyday wear? Woolx merino wool boxer briefs provide the ultimate high-performance comfort to keep you dry and comfortable every day, whether you're prepping for the summit at basecamp or just lounging around in your basement.
Don't save your best gear for the weekend. With the Woolx Daily's you can enjoy all the high-performance features you need on your toughest day, every day.Cotton briefs retain sweat and cause chaffing. Synthetic boxers retain odor and develop a permanent stink. Lightweight merino wool is the answer to all your underwear angst. Give the Woolx X303's a try, and you'll be cool, dry and comfortable all day.
Our lightweight merino wool is the ideal performance fabric to create boxer briefs that are soft and comfortable in any conditions. Here are a few reasons merino wool boxer briefs are superior:
Merino Wool is exceptionally breathable. Wool naturally wicks moisture away from the wearer to the surface of the fabric where sweat can evaporate keeping you cool and dry. Wool can absorb up to 30% of its weight in water and still feel dry to the touch, ensuring you won't get the clammy, clingy feeling you can from other fabrics.

The Lanolin in wool is naturally antimicrobial, killing the bacteria that creates odor. Not only will you feel fresh and clean in merino wool underwear you'll smell that way too.

The moisture wicking capabilities, flat seams, inseam gussets, and tagless construction prevent chafing and skin irritation, ensuring absolute comfort.

Our boxer briefs are made of superfine 17.5 microns merino wool which is not only softer than most synthetics, but it also holds up to washing and wears better.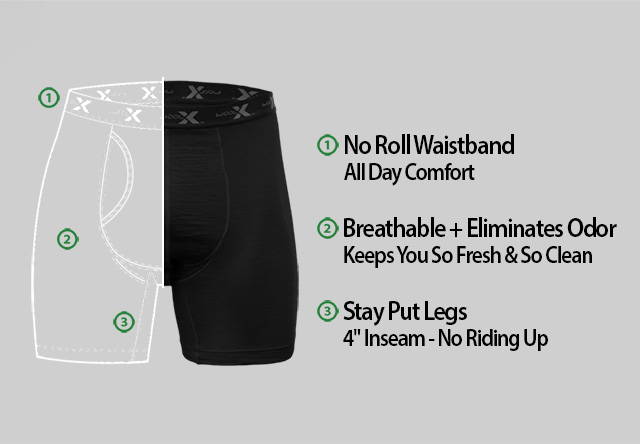 Softest Merino Wool You Will Ever Wear...Guaranteed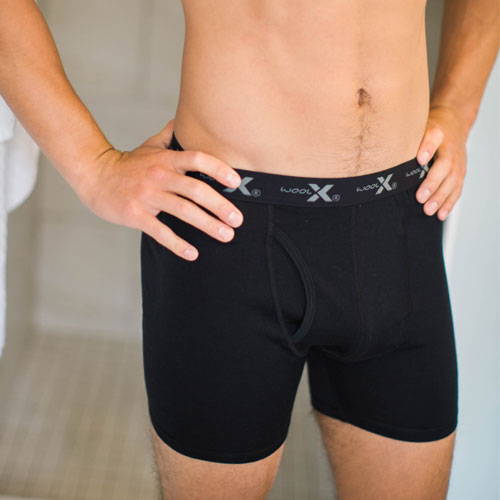 Fabric Information

Lightweight 160 g/m²
100% Australian Merino Wool - 17.5 Microns
UPF Rating 25
________________________________________________
 
Fabric Information

Lightweight 160 g/m²
100% Australian Merino Wool - 17.5 Microns
UPF Rating 25

Fit

FORM FITTING
Snug, base layer, second skin
Waist
S: 28-30
M: 32-34
L: 36-38
XL: 40-42
XXL: 44-46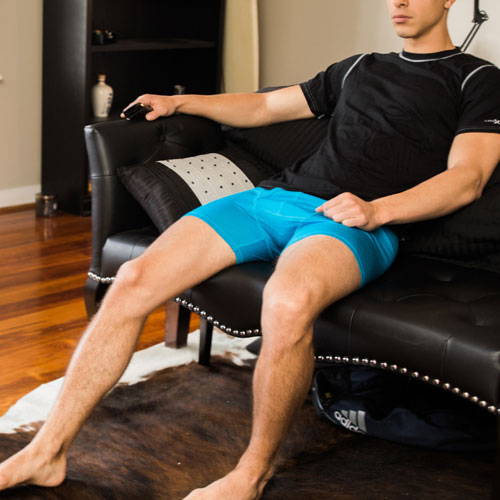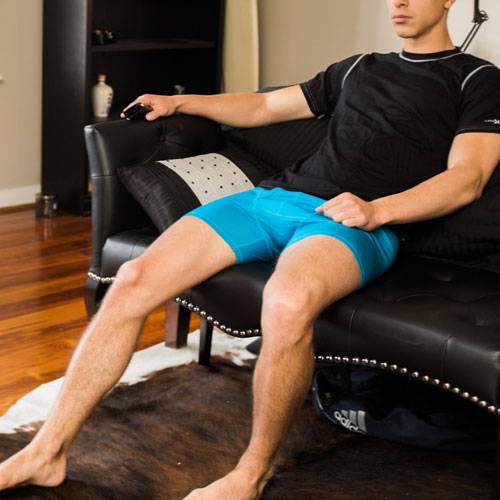 Waist
S: 28-30
M: 32-34
L: 36-38
XL: 40-42
XXL: 44-46
EASY CARE
Machine Wash Cold - Tumble Dry Low
No Shrinkage Ever
It's That Simple
How thick are these? I need something to keep cool in hot weather but that will hold up and not be tissue paper thin.

These are made from an ultra-fine 160 g/m2 lightweight merino wool knit. The dailies are light enough to wear comfortably in the hottest temps, and are exceptionally breathable with amazing moisture wicking and natural odor destroying properties. They're incredibly soft and have the feel of a well-worn T-shirt. They're not paper thin or see through, and will hold up well to both normal wear and tear from use, as well as machine washing and drying in cold temps.

What percentage of merino wool and what other materials are used in Daily boxers?

The fabric of our boxers are made from 100% Merino Wool. This is our 160g lightweight weave. The thread used for stitching and the waistband contain synthetic material.
Related Items
Ask a Question
Men's Daily Boxer Briefs